NEET 2021 will be conducted on September 12. The NEET 2021 application correction window has been launched on August 11 and the last date to make changes in the application forms is August 14 (2 pm). The application and fee payment ended on August 10 at 9.50 pm) and 11.50 pm respectively. The NEET application correction window, which was earlier scheduled to open on August 8, has been postponed. The application correction facility will be open from August 11 to August 14 (2 pm). The extension of the application deadline has been implemented to enable candidates, including those planning to apply for BSc (Hons) Nursing through NEET. The NEET 2021 admit card is expected to be released on or before September 9.
NEET 2021 Exam – centers, pattern, syllabus, application form, eligibility criteria, dress code, participating institutes
NEET 2021 will be conducted once a year in offline mode in 13 languages at around 197 cities in India and two international cities. Approximately 16 lakh test-takers are expected to appear for the exam. The scores of NEET UG 2021 will be used for BSc Nursing and Life Sciences Admissions. To know more about the application form, eligibility criteria, dress code, participating institutes, etc. read the complete article.
This year, the NEET exam pattern has changed in terms of the section-wise number of questions and structure. The number of languages in which NEET 2021 will be conducted has been increased from 11 to 13. The new languages introduced in NEET UG 2021 are Punjabi and Malayalam. The number of NEET 2021 exam centre cities has also been increased from 155 to 199, which includes two international cities, Dubai and Kuwait. NTA stated, "In order to facilitate the Indian students based in the Middle-East Countries to appear the NEET (UG)-2021, it has been decided to add DUBAI as an Exam City for this exam in addition to Kuwait City." Candidates planning to opt for Dubai as exam city could do so from July 23, 5 pm onwards. Those who had already submitted their application form can edit the exam city preference during the application correction window. On July 30, NTA has released a notification stating that based on the decision made by the Government of India, there would be 27 per cent OBC reservation (Non-Creamy Layer) and 10 per cent EWS reservation in 15 per cent All India Quota seats for MBBS/BDS (contributed by the State/UTs to the Central Pool). This reservation will take effect from the current Academic session 2021-22.
NEET 2021 What's New
NEET 2021 exam pattern changed. All subjects will have two sections with an equal number of questions. Out of total 200 questions in the question paper, candidates can choose to attempt 180, i.e. 10 out of 15 questions from the second section of each subject
NEET 2021 to be conducted in 13 languages
The application process will be conducted in two phases. In the first phase, candidates will have to enter certain information and the second phase will be conducted prior to the declaration of result, wherein they have to enter the rest of the information
NEET 2021 will be conducted in Kuwait and Dubai. In a first, NEET will be conducted in international locations.
BSc (Hons) Nursing programme admission will take place through NEET.
NEET 2021 Highlights
The following table brings the key features and highlights of NEET 2021.
Particulars
Details
Exam Name
National Eligibility Cum Entrance Test (NEET)
Exam Frequency
Once a year
Total Registrations
15,97,433
Exam Mode
Offline
Exam Duration
3 hours
Number of Exam Cities
198
Papers
Physics, Chemistry and Biology
Total Marks
720
Marking Scheme
+4 for each correct answer-1 for each incorrect answer
Medium of Paper
13 Languages – English, Hindi, Bengali, Urdu, Assamese, Gujarati, Marathi, Odiya, Kannada, Tamil, Malayalam, Punjabi and Telugu
Accepting Colleges
1,613 colleges
Total Number of Seats
MBBS – 83,075
BDS – 27,285
BAMS – 52,720
BVSc & AH – 525
NEET Helpline Numbers
+91*8126030103
Official Website
neet.nta.nic.in
NEET Facts and Figures
Below are the statistics related to the number of candidates registered, appeared, and qualified for the NEET exam:
| NEET Statistics | NEET 2020 | NEET 2019 |
| --- | --- | --- |
| Number of candidates registered for the exam | 15,97,433 | 15,19,375 |
| Number of candidates who appeared in the exam | 13,66,945 | 14,10,755 |
| Number of Candidates Absent | 2,30,490 | 1,08,620 |
| Male candidates | 7,16,586 | 6,80,414 |
| Female candidates | 8,80,843 | 8,38,955 |
| Total qualified candidates | 7,71,500 | 7,97,042 |
| Exam toppers with full marks (720/720) | 2 | Nil (AIR 1 score 701/720) |
NEET Facts and Figures
Courses Offered Through NEET
NEET UG is the gateway to admission to multiple medical and paramedical courses. While the major courses are MBBS, BDS, Ayurvedic Medicine, Unani Medicine, Siddha Medicine, Veterinary Sciences and Aminal Husbandry, among others. Some of the Paramedical courses include Bachelor of Physiotherapy, BSc Nursing, Bachelor of Occupational Therapy, Bachelor of Audiology, Speech and Language Pathology, Bachelor of Prosthetics and Orthotics.
The following table brings the number of seats offered at the top NEET UG courses.
| Course | Number of Seats |
| --- | --- |
| MBBS | 83,075 |
| BDS | 27,285 |
| BAMS | 52,720 |
| BVSc & AH | 525 |
Courses Offered Through NEET
In India, there are a total of 542 medical, 313 dental, 914 AYUSH, and 47 BVSc & AH colleges that will accept NEET 2021 scores. There are a total of 15 AIIMS and two JIPMER campuses. This year, BSc (Hons) Nursing course admission will also take place through NEET but the seat matrix is yet to be released.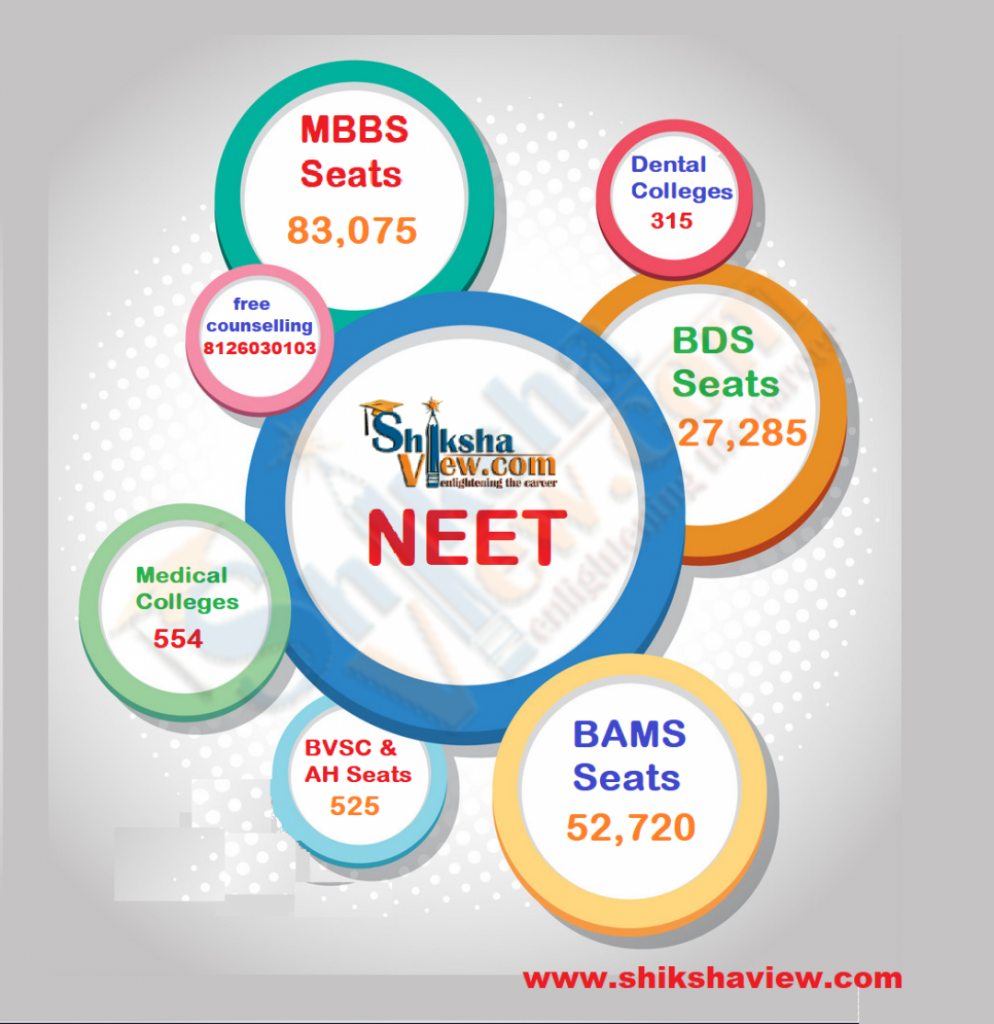 NEET 2021 Exam Dates and Events
The following table brings the list of events related to NEET 2021 and the schedule for those.
Events
Dates (Tentative)
Salient Features
NEET 2021 Information brochure and application forms
13-Jul-2021 (5 pm)
The application form had to be filled online (offline applications may be available for residents of Kashmir valley, Leh and Kargil)
Deadline to submit the NEET 2021 application form
06-Aug-2021 (11.50 pm)
10-Aug-2021 (9.50 pm)
NEET 2021 applications had to be submitted online till 9.50 pm and the application fee has to be paid till 11.50 pm of the same day
Deadline to pay NEET 2021 application fee
10-Aug-2021 (11.50 pm)
Candidates have to pay the application fee on or before 11.50 pm of the last date of NEET application
Correction window for the application form
08-Aug-2021 to 12-Aug-2021
11-Aug-2021 to 14-Aug-2021 (2 pm)
Candidates are advised to save the correction slip of the NEET 2021 application for future use
NEET 2021 Admit card available for download
09-Sep-2021
NEET 2021 admit cards have to be downloaded by logging into the registered accounts
NEET UG 2021 Exam date
01-Aug-20211
2-Sep-2021 (2 pm to 5 pm)
NEET 2021 will be conducted in offline mode for three hours and the test will consist of 180 objective type questions
Provisional answer key
To be announced
Answer Keys will be released online and candidates can challenge this answer key provided if they have sufficient evidence to support the claim
NEET 2021 Result to be announced
To be announced
NEET 2021 scorecards can also be downloaded online by logging into the registered accounts
NEET 2021 Exam Dates and Events
NEET Eligibility Criteria 2021
The National Testing Agency has prescribed the NEET 2021 eligibility criteria. All those who wish to apply for the entrance test are advised to check if they fit into the criteria specified by NTA. Candidates who fulfil the following parameters are eligible for NEET UG 2021:
Nationality:
Citizens or applicants belonging to the following nationalities are eligible to apply for NEET:
Indian Nationals
Non-Resident Indians (NRIs)
Overseas Citizen of India (OCI)
Persons with Indian Origin (PIO)
Foreign Nationals
Age Limit:
The age limit or age criteria for NEET candidates are as follows:
The minimum age of a candidate as of December 31, 2021, should be 17 years
The rule specifying the maximum age limit of the candidate was challenged last year in the court of law. Thus, there is no upper age limit as of now and candidates older than 25 years of age applying for NEET 2021 will be provisionally admitted subject to the ruling of the High Court of Delhi.
Minimum qualification:
Applicants should fulfil the educational qualification mentioned below:
Candidate must have cleared Class 12 or equivalent from a recognised institute
Candidates who are appearing for Class 12 or equivalent in summer 2021 can also apply for NEET 2021
Candidates who have completed Class 12 or equivalent from an open school are also eligible
Mandatory subjects:
Candidate must have cleared Class 12 or equivalent with Physics, Chemistry, and Biology
Candidates who have passed Class 12 or equivalent with Biology as an additional subject are also eligible
Minimum marks required in the qualifying examination:
General category: 50%
PWD category: 45%
SC/ST/OBC: 40%
NEET 2021 Admission Process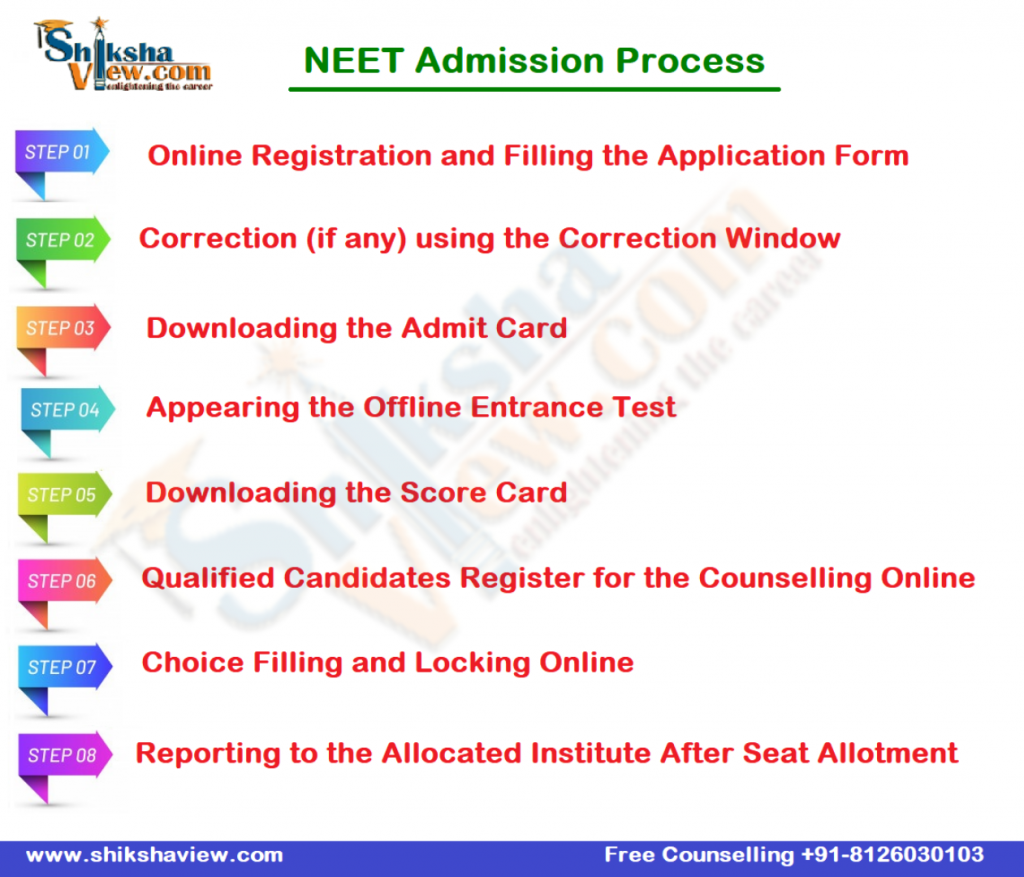 he admission process for NEET 2021 will begin with the filling of the online application form and end with reporting to the allocated institute for confirmation of the admission. All the steps in between are a part of the NEET 2021 admission process. In the illustration given above, we have listed everything that needs to be checked for admissions through NEET 2021. The upcoming events of the NTA NEET 2021 admission process have been described in detail below.
NEET 2021 Application Form Process
The application process was conducted online and candidates had to register themselves on the official website in order to fill the application form. For successful completion of the NEET 2021 application process, a candidate had to go through these four steps. To help understand the process better, the steps have been elaborated below. This year, a change was introduced in the NEET UG 2021 application procedure. According to NTA, in order to ensure that candidates have submitted the application information properly, the application form has been divided into two sets/phases. The first set of information has to be filled before the application deadline and the second set has to be filled before the declaration of the result.
How to apply for NEET 2021?
The step by step application process for NEET 2021 is given below:
Visit the official website, neet.nta.nic.in and register for NEET UG 2021
Fill all the mandatory fields in the online form, including the personal and academic details
Upload the required documents such as scanned copies of photographs, signature, left-hand thumb impression, and Class 10 Certificate
To complete the process, pay the stipulated fee as mentioned below
Take a printout of the confirmation page and preserve it for future reference
NEET 2021 Application Fee
The application fee has to be paid online. It can be paid using a credit card/ debit card/ net banking/ e-challan/ UPI.
| Category | NEET Application Fee |
| --- | --- |
| General | Rs.1,500/- |
| Gen EWS/ OBC | Rs.1,400/- |
| SC/ ST/ PWD/ | Rs.800/- |
NEET 2021 application fee
Common Service Centres (CSC) for NEET 2021
For candidates who do not have access to the internet or need help in downloading the NEET 2021 admit card, NTA has set up various facilitation centres across the country. These centres aim to help those who do not have access to high-speed internet, especially candidates residing in rural areas.
The CSCs charge a nominal fee for the services provided by them. Refer to the table below for the fee chart.
Fees charged by the CSCs
The table below brings the list of services offered at the CSCs along with the respective fees.
| Service | Fee |
| --- | --- |
| Writing emails and filling the application form | Rs.25/- |
| Online payment of the application fee | 0.5% of the application fee |
| Downloading the admit card/ answer key/ OMR sheet | Rs.10/- |
| Filing a response w.r.t the answer key | Rs.25/- |
| Printing charges (per page) | Rs.5/- |
Common Service Centres (CSC) for NEET 2021
If candidates want to avail the facilities of a CSC, they will have to locate the nearest CSC. Visit the CSC on a working day between 9.30 am to 6 pm. They must carry all the requisite documents to the CSC. To locate the nearest CSC, visit the official website, csc.gov.in or call for neet counselling assistance +91-8126030103.
NEET 2021 Exam Centres
The table below shows the list of NEET 2021 exam centre locations. The list for NEET 2021 exam centres is yet to be released. According to Union Education Minister Dharmendra Pradhan, the number of exam cities has been increased from 155 to 199, including two international cities to ensure COVID-19 safety protocols. The following table carries the list of major cities and not the complete list.
| NEET Exam State/UT | NEET Exam Cities |
| --- | --- |
| Andaman & Nicobar | Port Blair |
| Andhra Pradesh | Vijayawada, Visakhapatnam |
| Arunachal Pradesh | Itanagar |
| Assam | Dibrugarh, Guwahati |
| Bihar | Gaya, Patna |
| Chandigarh | Chandigarh |
| Chhattisgarh | Raipur |
| Dadra & Nagar Haveli | Dadra & Nagar Haveli |
| Daman & Diu | Daman |
| Delhi | Delhi (Central/ East/ North/ South/ West) |
| Goa | Panaji |
| Gujarat | Ahmedabad, Rajkot, Surat, Vadodara |
| Haryana | Faridabad, Gurgaon |
| Himachal Pradesh | Hamirpur, Shimla |
| Jammu & Kashmir | Jammu, Srinagar |
| Jharkhand | Bokaro, Ranchi |
| Karnataka | Bangalore, Belgaum, Gulbarga, Mangalore |
| Kerala | Ernakulam, Kozhikode, Trivandrum |
| Lakshadweep | Kavaratti |
| Madhya Pradesh | Bhopal, Gwalior, Indore, Jabalpur, Ujjain |
| Maharashtra | Aurangabad, Mumbai, Nagpur, Nasik, Pune, Thane |
| Manipur | Imphal |
| Meghalaya | Shillong |
| Mizoram | Aizawl |
| Nagaland | Dimapur, Kohima |
| Odisha | Behrampur, Bhubaneshwar, Rourkela |
| Puducherry | Puducherry |
| Punjab | Bhatinda, Jalandhar |
| Rajasthan | Ajmer, Jaipur, Kota, Udaipur |
| Sikkim | Gangtok |
| Tamil Nadu | Chennai, Coimbatore, Madurai, Salem, Tiruchirapalli |
| Telangana | Hyderabad, Warangal |
| Tripura | Agartala |
| Uttarakhand | Dehradun, Haldwani |
| Uttar Pradesh | Bareilly, Ghaziabad, Jhansi, Lucknow, Noida, Varanasi |
| West Bengal | Durgapur, Kolkata, Siliguri |
| International Cities | Dubai, Kuwait |
NEET 2021 Exam Centres
NEET 2021 Admit Card
NTA will release the NEET admit card 2021 online, on the official website. According to the information brochure released by NTA, NEET 2021 admit card will be released three days prior to the examination. The admit card of NEET UG 2021 will be available on the official website of NTA NEET. Candidates can download their NEET admit card 2021 by logging into their registered accounts. Details of the exam centre allotted to the candidate will be mentioned on the admit card of NEET 2021.
After downloading the admit card, candidates need to take a colored printout of the same and paste a recent passport-sized photograph (preferably the same as the one uploaded with the application form) in the space provided. Also, candidates must get it signed by a parent/guardian before the exam day. However, they must not sign on the admit card unless instructed by the invigilator, on the day of the exam.
Read Also :
NEET Application – 2021 Correction Window Open
NEET Study Material – Free Download PDF Notes
Neet Reservation For OBC-EWS-SC-ST-General