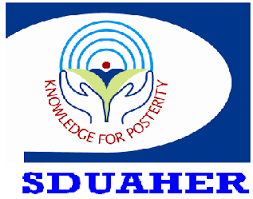 Sri Devaraj Urs Medical College
Estb.: 1984 Ranked: 23rd in India
SDUAHER Tamaka, Kolar, Karnataka 563101
Approved by: UGC, AIU Member, NAAC 'B' Accreditation
Type : Privet
About The SDUAHER Campus
Sri Devaraj Urs Educational Trust for Backward Classes established in 1984,with the focus on provisioning of Medical Education and Social Services , In 1986, The trust started Sri Devaraj Urs Medical College at Tamaka, Kolar.
The trust in its stride for attainment of quality in education and Health Care Services has obtained accreditation for its Medical College by National Assessment and Accreditation Council (NAAC, India) and Certification by ISO 9001-2000 in the year 2006. Sri Devaraj Urs Medical College is one of the few medical colleges in India to have achieved these remarkable dual feats of accreditation as early as in 2006.
SRI DEVARAJ URS MEDICAL COLLEGE – SDUMC KOLAR HIGHLIGHTS
| | |
| --- | --- |
| Institute Type | Private College |
| Name of the Institute | Sri Devaraj URS Medical College – SDUMC |
| Location | Kolar, Karnataka |
| Established | 1984 |
| Affiliated | Rajiv Gandhi University of Health Science – RGUHS |
| Approved | MCI, CCIM, NBA, AICTE, NAAC, ICMR |
For Free Counseling, Register Now
For Admission Help Call @08126030103
In 2007 it declared as Deemed University Sri Devraj Urs Acedemy of Higher Education & Research have more than 72 acres of lush green campus with several buildings to accommodate the medical college, administrative offices, teaching/training facilities, hospital and hostels with a total built up area of over 1.17 lakh sq mtrs. Currently, the university has two faculties of studies viz; Faculty of Medicine and Faculty of Allied Health Sciences. The medical college conducts Under Graduate Degree (MBBS), Post Graduate Degrees (M.D./M.S.), Post Graduate Diploma courses, Doctoral Programs and Fellowship Programs.
The University has initiated several steps for the improvement of quality in research activities and has established linkages with institutions of repute towards achieving this, Junior Research Fellowship and Seed Grant Schemes have been in place. The Genomic and Central Research Facilities created by the University promote diagnostics and research activities in the area of genetic disorders. The center has a number of sophisticated equipment for cytogenetic and molecular diagnosis. The University department of Cell Biology and Molecular Genetics has done commendable research work on congenital anomalies and the department has been recognized by ICMR as a training centre in genetics for medical faculty since 2015 for a period of five years.
Approval, Recognition, Affiliation and Accreditation
Below is the list of accreditation and approvals the University has received:
University Grants Commission [UGC]
Association of Indian Universities [AIU]
Medical Council of India [MCI]
Indian Nursing Council [INC]
Central Council for Indian Medicine [CCIM]
All India Council for Technical Education [AICTE]
Pharmacy Council of India [PCI]
Indian Association of Physiotherapist [IAP]
NAAC 'B'
NBA
Indian Council of Medical Research
Contact Details and Location
---
| | |
| --- | --- |
| ADDRESS : | Tamaka, Kolar, Karnataka 563101 |
| CONTACT : | 08126030103 |
Facilities
Courses Offered
ALLIED HEALTH AND SCIENCE
Under Graduate Program
B.Sc Medical Laboratory Technology
B.Sc Operation Theater Technology
B.Sc Imaging Technology
B.Sc Ophthalmic Technology
B.Sc Renal Dialysis Technology
Post Graduate Program
M.Sc Molecular Biology and Human Genetics(M.Sc, MB&HG)
M.Sc (MLT) Clinical Bio-Chemistry
M.Sc (MLT) Clinical Hematology and Blood transfusion
Master's in Public Health(MPH)
M.Sc In Health Science Library and Informatics
Post Graduate Diploma Programs
Diploma In Genomics Technology (PGDGT)
Diploma in Yoga Practice (PGDYP)
Certificate Programs
Application Technology in Hospital Environment
Phlebotomy Technology
Blood Bank Technology
M.Phil Programs
M.Phil (Molecular Cell Biology and Medical Genetics)
Ph.d Programs
Ph.d (Cytogentic and Molecular Genetics)
MEDICAL
Under Graduate Program
Post Graduate Program Doctors of Medicine (MD)
MD (Anatomy)
MD (Physiology)
MD(Biochemistry)
MD(Pathology)
MD(Microbiology)
MD (Pharmacology)
MD (Forensic Medicine)
MD (Community Medicine)
MD (Anesthesiology)
MD (Dermatology)
MD (General Medicine)
MD (Pediatric)
MD (Radio Diagnosis/Radiology)
MD (Psychiatry)
Post Graduate Program Masters of Surgery (MS)
M.S (General Surgery)
M.S (Opthalmology)
M.S(Orthopedics)
M.S(ENT)
M.S(O.B.G)
Post Doctoral Fellowship
Head and Neck Surgical Oncology
Ph.D Programs
Ph.D Physiology
Ph.D Biochemistry
Ph.D Microbiology
Ph.D Pathology
Ph.D ENT
Ph.D Radiology and Radiation Physics
Ph.D Medical Education
Ph.DNursing (Interdisciplinary)
Ph.D Physiotherapy (Interdisciplinary)
Ph.D Clinical Medicine (Interdisciplinary)
Eligibility Criteria
Eligibility criteria at Sri Devaraj URS University, [SDUU] Kolar:
Doctorate of Medicine [MD], MASTER OF SURGEY [M.S.]:
Candidate should have clesred MBBS – qualifying examination in an institute recognised by MCI.
Candidate must have scored a minimum of 50% for general category and 45% for SC/ST category in your MBBS degree.
MBBS:
Candidate should have qualified in second PUC or 10+2 or equivalent examination recognised by State/Central Government with Physics, Chemistry, Biology with a minimum of 50% marks with English as a compulsory subject.
Candidate should complete 17 years of age on or before December 31st, 2017.
Admission procedure at Sri Devaraj URS University, [SDUU] Kolar:
Candidates will be selected on the basis of marks obtained in the Uni-GAUGE PGMD Examination.
Uni-GAUGE PGMD Examination is conducted online.
Infrastructure
Wi-Fi facility is available in the hostel.
There is a centralized air-conditioned huge library with separate sections for PG students and UG students.
Teachers teach through projectors in the classroom, and there are well-equipped labs.
Hostel rooms are satisfactory, but there will be some issues with food as they mainly focus on providing South Indian cuisine.
Our college has a gym, cricket ground, basketball court and football ground for students.
Auditorium Equipped with the latest technology and a seating capacity of 400 peoples Facilities for conducting seminars, symposia, workshops etc.
Different laboratories for Physiology, Biochemistry, Microbiology, Pharmacology and Pathology etc.
Bank facility available
Hostel Facilities
There are five hostels surrounded by greenery. A separate hostel is provided to NRI girl students, each room consisting of two beds one small kitchenette and an attached bathroom. Separate Ladies warden and sufficient security have been provided.
Library Facility
The University Library is a unique information resource center of the Academy it provides all the aspects subjects of Health Science, allied health and basic sciences. It spread over 3642 Sq. mtrs and accommodate 700 users at a time. It has state-of-the-art, Wi-Fi facilities to browse and access the resources.Well stocked library with around 14,000 books and 6,500 national and international journals Centre of E-Information Centre for services like E-mail services.
Vision of the library:
To link academia with reliable health science Knowledge and technology for supporting effective Teaching-Learning –Research Patient Care and Community Service
Mission of the library:
To strive for the highest quality services to offer accessibility to the knowledge base of the health sciences, to educate users in information retrieval and management techniques to acquire specialized resources in a cost – effective manner.
Goals:  To provide
Provide service par excellence and timely access to information in the health sciences, independent of user location and mode of access.
Teach access to, retrieval of, and synthesis of information for education, clinical decision making, and research.
Provide access to a variety of resources to meet users' educational, clinical and research needs.
Create a workplace that develops staff, provides a flexible work space, exhibits effective communication, and supports success planning opportunities.
Create a marketing process that keeps users informed of library resources and services.
Review the use of library space for innovative opportunities to enhance user satisfaction.
Perform a comprehensive user needs assessment to determine areas of strength and weakness in services, resources and/or operations.  The results will be used to inform continuous improvement priorities over the coming years.
Review and implement options to improve the management and delivery of information services.
Sports & Other Facilities
Sports facilities: 
 Well maintained playgrounds and sports complex with gym facility All maintained under the instruction of Physical Directors.
Common Facilities: 
Provided with cafeteria, ATM, solar water heaters etc 
Scholarship
Meritorious Candidates are eligible foe Scholarship provided by the University. The academy awards 30 scholarships for under graduate students (MBBS) every year. The Value of each scholarship is Rs.25,000/- per annum. 15 scholarships are for students under general merit category (GM) and are named after Late Sri. Ramakrishna Hegde. Former Chief Minister of Karnataka. 15 scholarships are for students under OBC Category and are named after Late Sri. Devaraj Urs, former Chief Minister of Karnataka.
Placement
Placements at Sri Devaraj URS University, [SDUU] Kolar:
The university has institutionalized mechanism for students' placement.
The Career Guidance and Placement Cell provide information and counselling to the students regarding career as well as placement opportunities available in and outside the country.
It also encourages them to work in the same institution for career advancement and hands on training.
In medical college mostly student prefer to work in the same Institution.
More than 70% of the students from our course got placed.
The highest salary offered was approximately 2-3 lacs per month, while the lowest salary offered was Rs. 60,000 per month.
Maximum students will get placed on their own in hospital chains like Apollo, etc. About 80% of the students got internships. Students pursue MBBS and MD super specialty in most of the clinical subjects.
Location
Tamaka, Kolar, Karnataka 563101